Thursday, May 4, 2023
HOUSTON, TEXAS, USA, May 4, 2023 — Ryder Scott Company, L.P. (Ryder Scott), the leading independent global oil and gas consulting firm, has announced the promotion of Guadalupe (Guale) Ramirez to Chairman and Chief Executive Officer and the promotion of Herman Acuña to President, effective April 1, 2023.
Guale Ramirez has been with Ryder Scott since 1981 and has over 47 total years of industry experience. Ramirez started his career as a petroleum engineer, and he has experience evaluating nearly all major oil and gas basins in the world. He has played a key role in Ryder Scott's growth internationally. In addition to the challenge of working countless projects worldwide, Ramirez states that one of the greatest pleasures in his career has been working with numerous talented professionals all over the globe. Ramirez holds a B.S. degree in Mechanical Engineering from Texas A&M.
"I look forward to working alongside Herman, with whom I have worked on many projects since his start at Ryder Scott. Together we will continue to advance Ryder Scott's name as a premier name in petroleum and energy consulting, worldwide. We look forward to meeting the rapidly changing needs of the energy industry, continuing to build on our longstanding tradition of excellent service," said Ramirez.
Herman Acuña joined Ryder Scott in 1997. He has over 35 years' industry experience, beginning as a petroleum engineer and gaining global recognition through his work with both IOCs and NOCs throughout the world. Acuña has led Ryder Scott's management consulting services, overseeing and assisting clients through technical and financial strategic endeavors. He currently is the head of Ryder Scott's Sustainable Energy Division, which includes GHG validations and CCUS consulting. Acuña is looking forward to his new role at Ryder Scott. Acuña holds a B.S. degree in Petroleum Engineering and an M.S. degree in Petroleum Engineering from the University of Tulsa.
Ryder Scott thanks Dean Rietz for his many years of service and dedication to the company. Rietz started at the company in 1995 and served as Chairman and CEO from 2019 to 2023. Rietz will continue to provide expert technical support as Advising Senior Vice President.
Founded in 1937, Ryder Scott provides independent and expert guidance to energy clients around the globe while staying abreast of the latest technology and industry culture. Ryder Scott is headquartered in downtown Houston, with branches in Denver and Calgary. For more information, visit www.ryderscott.com or email info1@ryderscott.com.
Ryder Scott Company, L.P.
+1 713-651-9191
Info1@ryderscott.com
---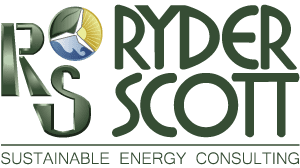 Thursday, April 22, 2021
Ryder Scott is excited to announce the launch of our new division: Sustainable Energy Consultancy Services. The oil and gas industry has embraced the responsibility and is dedicated to the stewardship of our natural resources. Ryder Scott, along with our industry partners, is committed to preserving and maintaining a clean environment for future generations.
Observations of climate change are bringing to the forefront the need for every individual to do what they can to lower mankind's impact on the environment. Recent initiatives across the globe are appropriately encouraging us all to reduce greenhouse gas emissions while also looking into alternative energy sources. Our industry is well-equipped (technically and ethically) to continue providing cost-efficient energy to the world while also safeguarding our environmental eco-system.
Ryder Scott understands the significance of this movement; therefore, we have expanded our service offerings to include environmental compliance related consulting services, greenhouse gas emissions consulting services and sustainable energy sources consulting services. We are embarking on this new frontier by creating a new division that addresses many of these needs. I welcome you to explore our capabilities that complement our long-standing tradition of oil and gas consulting services. We look forward to this journey and invite you to join us as we learn and grow in this sector, working together with our clients to achieve low-carbon, sustainable energy strategies. Please learn more here: https://ryderscott.com/services/low-carbon-sustainable-energy-consulting-services/
Dean C. Rietz
Chairman and CEO
---
Friday, March 26, 2021
Ryder Scott is extremely proud and honored to be a 2020 Houston Chronicle Top Workplaces winner. Every year, employees and clients can nominate a company that they feel should be recognized as a great place to work. Our employee response rate was 75%, higher than the benchmark of 71% for all participating organizations. There were 170 comments regarding the appreciation, communication, innovation, and direction demonstrated to our employees as they remained committed to achieving company goals. We appreciate our employees and clients, and we are truly pleased that they have recognized Ryder Scott as a standout company. 
The year 2020 was a challenging time for the world. We are grateful for our employees and clients resilience and adaptability, as we worked together to navigate the different challenges we faced throughout the year. Our company culture has strengthened in these difficult times. Ryder Scott will always prioritize the health, safety, and well-being of our employees, clients, and community. As we all push forward in 2021, we hope to continue to successfully overcome the unexpected and fulfill our company's mission with a renewed sense of purpose, hope, and gratitude. 
Please click here to view the article: www.houstonchronicle.com
---
Thursday, October 1, 2020
It has been over a half year now, and we all have adapted, in different ways, to a work environment coping with the COVID-19 worldwide pandemic. A lot has changed since this crisis took over our lives early this year. From a personal health standpoint, hospitals and caregivers have made significant progress to reduce the impact of the virus, and the global healthcare community continues to learn and apply this new knowledge to the fight against COVID-19. The long-term outlook looks promising, with the ongoing development of various vaccines – several in the last stages of clinical trials – along with new therapeutics which will help before the vaccines become widely available. From a business standpoint, we all have been challenged to find new and innovative approaches to our provision of services, most notably the reality of working remotely. The welfare and safety of our employees and the community in general, continues to be of tremendous importance to us.
We continue to serve our clients, practicing social distancing within the office as well as outside of the office. Throughout these past seven or so months, all of our employees have been required, or in some cases encouraged, to work from home through a secured network connection in order to maintain client confidentiality and data security. We continue with the commitment to placing the highest priority on all our staff's health and safety as well as their families' health and safety. Travel restrictions and limiting guests to our office continues to be in full effect and has been similarly embraced by our clients. Nearly all staff-client interaction has occurred through email, phone, Zoom video conferencing, or similar methods as incorporated by our clients' standard practice. This type of interaction will continue to be encouraged as we move forward through 2020.
As the Federal, State and Local authorities start to ease restrictions, we too are starting the transition back into our offices. We recognize there are still many variables and obstacles to returning back to our buildings (e.g., public transportation, local social distancing mandates, school openings and remote learning directives); therefore, we are encouraging staff to return to the office, when practical. We are currently heading into what is considered our busy season, and although we have been relatively effective working (remotely) from home, we all look forward to returning to in-house operations as comradery, in-person business interaction, and simple and quick mentoring and immediate feedback cannot be at an optimum with a distributed workforce. We look forward to the day that we are back to normal (acknowledging it may be a new type of normal).
Please know that Ryder Scott is dedicated to our clients and potential clients. Our mission statement is still at the forefront of all of our minds:
"To provide independent and expert guidance to our clients with the utmost professionalism and integrity."
Our staff continues to be committed to meet set deadlines, as well as take on new projects. We are equipped to work through situations such as this, whether remotely from home, in the offices, or some combination of both.
Ryder Scott continues to stand with you during these trying times. Please call or email us with any questions, comments or concerns.
---
Monday, March 16, 2020
Amid the worldwide COVID-19 health crisis, Ryder Scott assures you that we are closely monitoring the situation.  The welfare and safety of the community is always of utmost importance to us.
Our firm is open and operating, practicing social distancing within the office as well as outside of the office.  All of our employees have the option (and encouraged) to work from home through a secured network connection in order to maintain client confidentiality, as we understand the importance of client data security.  We have communicated to staff that first and foremost, they must consider their health and safety as well as their family's health and safety.  Therefore, during this time, we are limiting travel abroad and limiting guests to our office.  We are strongly suggesting that all communication be through video and tele-conferencing.
Please know that Ryder Scott is dedicated to our clients and potential clients.  Our staff is equipped to work through situations such as this, and therefore, we are committed to meet established deadlines as well as take on new projects.
Ryder Scott stands with you during this trying time.  Please call or email us with any questions, comments or concerns.
Dean C. Rietz
Chairman and CEO
Ryder Scott Co., LP